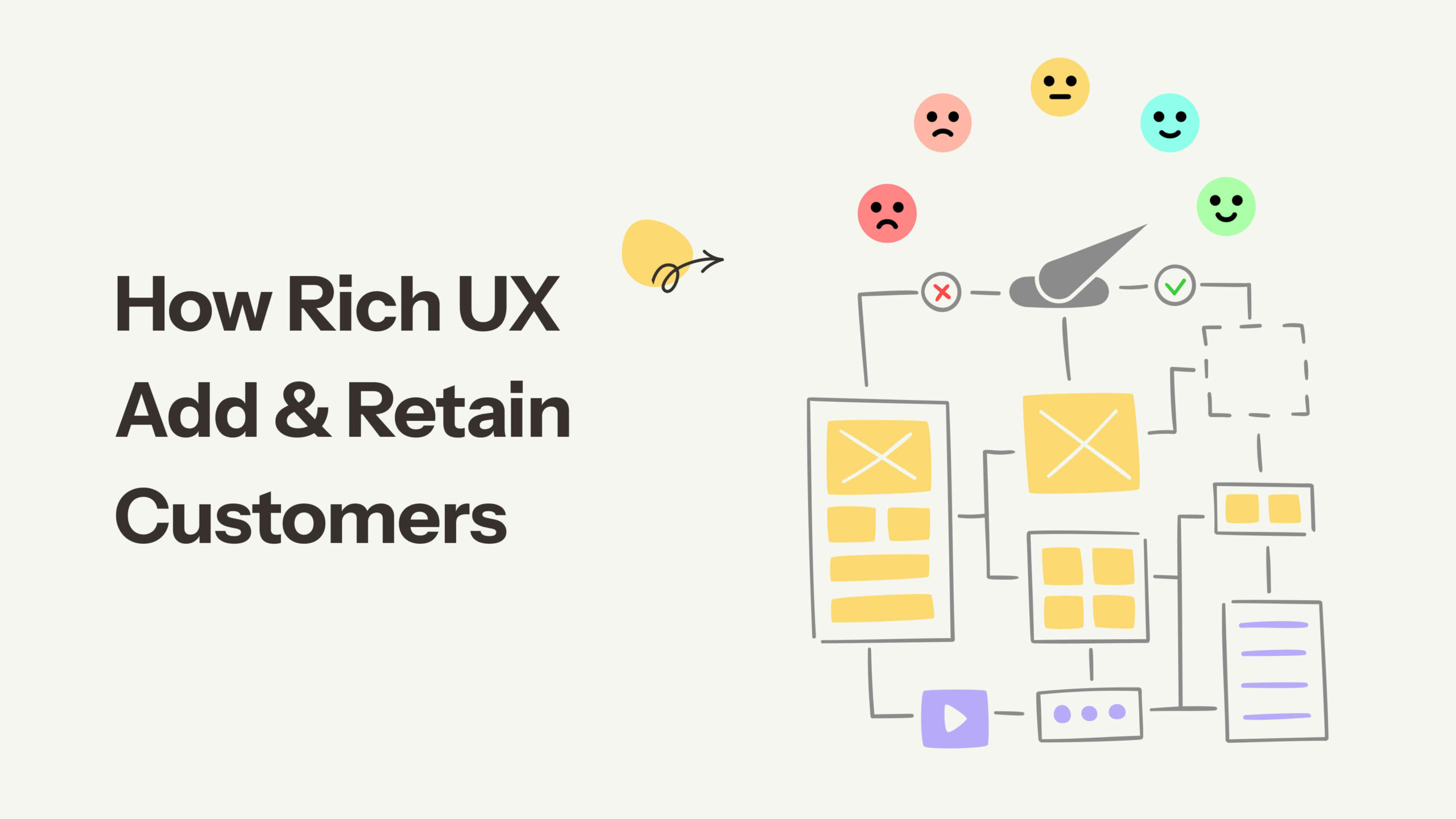 Quick Summary: A mobile app is probably developed with the primary goal of helping businesses reach their target customers precisely. It is clear that creating a digital platform also had the goal of making financial growth. However, thinking about the UX for mobile apps is an important consideration. A precise appearance yields a precise outcome in terms of customer retention and satisfaction. This blog has gathered all the necessary attributes on how an app with greater UX helps you add and retain customers.
UX has generated a lot of buzz nowadays. UX may stand summed up as any sentiment users have while interacting with your company's website, applications, or any online digital platforms. Whether it's a smartphone app or a large-scale e-commerce website, the User Experience of any digital platform determines its success. It combines sensible and indulgent elements.
One of the key factors contributing to the failure of most application establishments is poor usability. Users leave websites 90% of the time due to poor user experiences, but if a mobile app isn't responsive, users are likely to give up on their intentions of visiting your app.

Engaging consumers with your mobile app does not require keeping them hooked to the screen. A loyal long-term user who only uses the app when necessary is far more valuable than a compulsive, temporary connection. By nurturing them, show your users that your mobile app will consistently be a dependable answer to their concerns, both now and in the future.
Let's start by defining User experience design (UX)
What Does App UX Design Mean?
The process through which a web or mobile application is developed for devices such as Apple and Android smartphones, tablets, or smartwatches in order to provide users with the greatest possible user experience.
Mobile and its related technologies are becoming more and more popular on a global scale, and as they improve creativity in user experience design, so do people's expectations that they would spend less money and accomplish more chores without any problems. This increases the importance of leveraging UX design for your mobile application.
In comparison to desktop users, mobile users have different needs. Mobile websites and apps are frequently used with different intentions. Because of this, mobile app UX design must be incredibly straightforward and user-friendly. The conditions that users of mobile devices have when using their programs must be taken into performance UX design services who design apps for different devices.
Effective UX Design Ways to Extend Your Customer Retention Rate
Strategic planning must lead to a UX for better customer experience, which improves conversion and customer retention rates. If your business has been experiencing significant turnover rates, it may be time to change the UX design of your app.
Here, we'll provide you with six swift ways you can implement in your app to enhance the user experience for your users and encourage repeat visits.
Maintain Simple Design
The users of your application have specific objectives in mind, and if they encounter a barrier on their path, they could become frustrated or take longer than anticipated, losing their way in the process. Similar to how your mobile app's undesirable features and functions will only divert users from their intended route.
As a result, you should use a minimalistic design strategy to develop a simple and incredibly useful mobile application. Your business will also profit from it. Your user experience should be easy to understand and simple to use to prevent excluding your customers.
Probe App & Examine Improvement
Remote user testing is the ideal method for evaluating the usability of mobile applications. You'll be able to do this to acquire feedback from users who are far away after they've used your app. Adapting UI UX design agency mates will help continue with quality guarantee and eliminate any bugs they may encounter.
Therefore, user testing is a remarkable approach to experiencing existence with your users' stares and as they would when using your app. During usability testing, actual users are watched as they attempt to complete activities on an app. Making sure your user interface is effective and engaging will ultimately save you time and money.
Application Consolidation
Whether it's on your web app or in your app, make sure you provide a simple interface that doesn't overload your customers with functionality.
There is such a thing as giving your customers too much of a good thing, despite the fact that it could be desirable. According to the research, more than 75% of customers base their judgment on the reliability of an app solely on its appearance. Remember not to overwhelm the visitor even though you want your website to seem wonderful. Aim for elegance rather than flair when implementing UX ideas.
Utilise Notifications Feature
Using push notifications, you may enhance user retention by 20%. By using notifications that are time- and behavior-based, you may further boost user retention. Sending notifications at the right time of day, you may enhance push notification engagement with the latter by a factor of seven.
This indicates that despite having the application installed, they are not using it. People who have forgotten about the application may be reminded of it through a push notification.
Improve Search Feature
Users access your app with the intention of completing their requirements or locating and purchasing your goods and/or services. There is a probability that users will switch back to your competitor's app if your app has flawed or insufficient navigation and difficult-to-find useful demands.
To make searches quick and simple, you can offer an in-app search engine. Your app's usability will be greatly enhanced by its simple navigation design, smart search functionality, and information structuring. Your mobile app design has a big impact on how many customers you keep. In the end, you want your clients to find it straightforward, user-friendly, and satisfying.
Know Your Audience
The design outcomes depend on how well you know your target market and audience. That means you need to know your customers. Many UX companies do have skilled UX designers who know the market and the target audience. You can even approach differently. For example, conduct market research and create user persona. Based on the user persona, your UX designer will create outstanding mobile app design.
Inform Your Audience
When conducting UX design, you should always be looking for ways to make your website and application better. Utilizing an app that seems antique or out of date in light of new technologies is the worst.
The best path of action would be for you to inform your users of the platform changes. It would be easy to overlook this phase after all the work to upgrade functionality. Include a plan for informing your users about your app.
Improve Consistency
Users feel comforted that they are utilizing the same application when there is consistency in UX design. With the logo and header design of your app's user interface, the user will be soothed that they are on the correct track.
The navigation system's consistency will also ensure a consistent user experience. More odd designs will divert the app's clarity and irritate users, therefore avoid using them in your app. In order to maintain consistency and promote user trust, design standards should be followed.
Fundamentals of User Retention & Engagement
A user retention design is investable. The relationship between customers and the app is maintained as a result of the investment. The more people spend on your app in terms of time, money, and effort, the more valuable and reliable the retention is.
The fundamentals of user retention and engagement depend on the way of app designing.
There are a few factors that contribute to this; let's examine them below:
Apps facilitate user's lives. You must concentrate on how the fundamental functionality of your app should be offered to your users during the planning stage of its expansion.
The app's content is updated frequently. Regular users find apps that aren't updated with fresh material to be boring and stale.
Users can receive detailed instructions on how to use the app. There are two parts to this; the first is that the onboarding process must be simple and effective. To ensure exceptional app utilization, the navigation and user experience must be as seamless as possible.
They get a consistent experience across different devices. Maintaining a consistent theme across numerous platforms, such as smartphones and tablets, is a component of user experience design.
The provided product features a visually pleasing layout. People appreciate clean, uncluttered pages, simple navigation, and interactive features like page transitions and feedback sounds.
Bottom Line
User engagement is what separates successful apps from unsuccessful ones. Engagement is closely tied to providing value through the app, as consumers will only utilize apps that can solve problems and make their needs end. This means that, like any other business, applications must consider all aspects of the market, the target audience, and the product design process.
Effective UI UX design trends can greatly improve your client retention rates. Hire UI UX designer to make your platform's structure & improve the performance of your applications. Last but not least, always try to keep things simple, approachable, and delightful. Customers will value it, and your business will eventually make capital.
Index
Would you like to Listen?
Related Articles
Get the inside scoop on the latest UX industry happenings and trends from our expert UI UX professionals.