Quick Summary: Are you looking to create UI/UX designs that meet your users' expectations? Have you explored the top UI/UX design trends? Not yet? We have made this easy for you by bringing the top-notch UX/UX design trends that are rolling the roost in 2023 and continue to dominate in 2024 and ahead. Let's explore;
The battle for high traffic, conversion, user experience, and engagement has been raging for several decades. Businesses put all their efforts to keep themselves a competitive edge over their competitors. However, meeting users' expectations has always been a challenge for them. UI/UX design is one of the best ways for businesses to express themselves apart from others. But, the winner in this UI/UX rage is the one who clearly catches up with the UI/UX design trends.
UI/UX design is a crucial part of application web and software development to ensure the user interface meet user expectation. No doubt, the quality of design comes on the top of skills and expertise of a UI/UX design agency, keeping up with the latest trends is essential to create captivating user experiences. As we step into 2023 and soon be welcoming 2024, it's time to explore cutting-edge UI/UX design trends to ensure our digital platforms meet the design trends of 2024 and ahead. we must have what is shaping the future of digital interactions.
So, if you are looking to build a high-quality UI/UX design, then this article will help you with top UI/UX design trends in 2023 and 2024.
UI/UX Market Trends 2023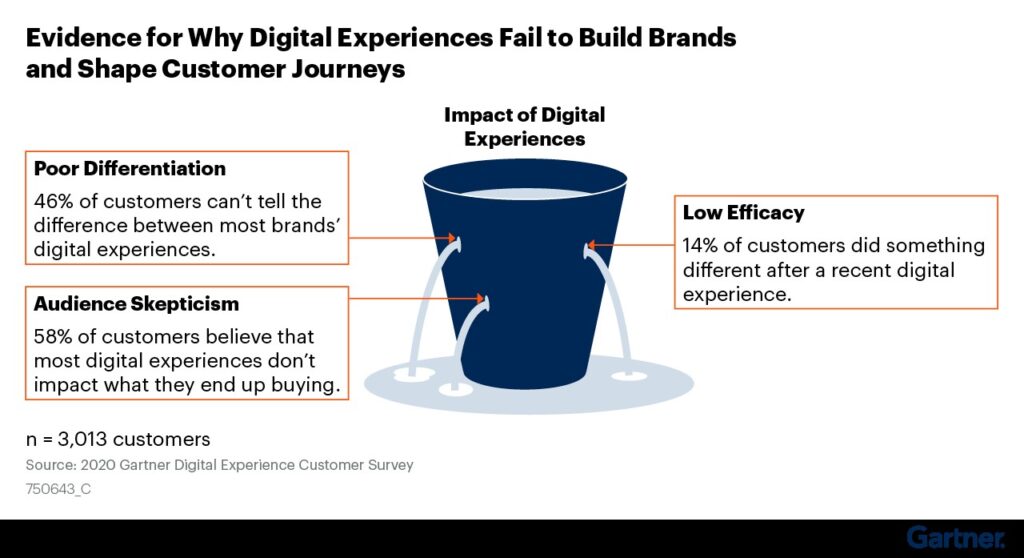 Did you know your application with a good UI can increase conversion rates by up to 200% and it will double to 400% with excellent UX?
It's not intimidating, but 32% of people may not use your application again if they encounter one experience. However, another research suggests that the good part is customers believe that most digital experiences don't impact their buying decision.
List of Latest UI UX Design Trends for 2023/2024 and Beyond
With the market facts for UI/UX, you must have understood the significance of design and how it impacts users' buying intention, including increasing conversion and revenue. We Explore these trends so you can effectively keep your audiences engaged with technology. So, let's embark on a journey to discover the most exciting current UI UX design trends that will define the digital landscape in 2023.
Trend 1: Minimalism
Minimalism in UX design is the most crucial strategy ensuring "less is more." With this strategy, your website eliminates excess and places the remaining elements. For example, simplicity, clean lines, and a monochromatic palette with appropriate colors are the basic and crucial characteristics of it.
Trend 2: Dark Mode
When we say dark, it's not black, rather it's a low-light theme that often represents sophistication, luxury, and elegance. Dark UIs in digital products are a unique trend and are an aesthetic choice. To say, dark mode is useful for reducing eye strain, but it's rational —facts without evidence. But, it represents power and mystery —it's a fact, giving absolute reason to be the latest UX design trends.
Trend 3: Storytelling with Microinteractions
Storytelling in UI design is a small but impactful design element. Designers use this to emotionally target the audience and build empathy. With thoughtful animations and an infographic approach, designers create a story so users can easily understand the message without putting much effort. But, to create an impactful storytelling design, you need to have a good UI/UX design team. If you are outsourcing your UI/UX design project to an offshore design team, you need to explore how to hire creative and experienced UI UX Designers.
Trend 4: Neumorphism
Whether you are building contemporary software or mobile apps or web applications, Neumorphic design is the best choice for bringing simulated physical attributes. It's a combination of three identical characteristics, such as;
Monochromatic colour schemes
Low contrast
Subtle shadows
Experienced designers use these traits to exhibit Neumorphism. They are best for showcasing apps and websites vividly.
Trend 5: Animations
The word animation gives the sense of cartoons or video games, but it is more than that. It's pretty much in trend for UX/UX design in 2023. Basically, with animation, we add motion, giving your website and mobile application the power of interactivity. It's going to be popular among users like it has been so far in 2023. If you want to make your website attractive and more user-friendly, having animation in your design trends for 2023 and 24 will have added benefits.
Trend 6: Smooth gradients
Gradients are best for creating logo designs as they can create something and even unexpected. In a simple sense, gradients are used for prioritizing something visually. For example, you can visualize elements, such as the brand logo on the website, CTA, and other website elements that you want to draw users' attention to. Gradient design is already in trend and will continue to reign in future UI/UX design trends. So, if you want to innovate with your website design or app design, this innovative
Trend 7: 3D is everywhere
3D is quite popular in video but is equally popular in UI/UX design for websites and mobile applications. Everyone loves ambushed design as it clearly represents the message and provides an enhanced user experience. You can include these UI/UX design trends. But, to make an impressive 3D design, you must have a team of UI/UX designers with enough experience and skills.
Recommend to Read: How to Hire UI/UX Designer for Your Next Project
How Does Finch Design Help?
We are a reputed UI/UX design company with core expertise in creative trending designs for web and mobile applications. We offer to hire UI/UX designers on an ad hoc basis. All our designers are experienced and keep themselves updated with the latest UI UX design trends. They create futuristic designs so you get a long-lasting impact. You can connect with us for UI/UX design consultancy and create unique designs for your projects.
Index
Would you like to Listen?
Related Articles
Get the inside scoop on the latest UX industry happenings and trends from our expert UI UX professionals.