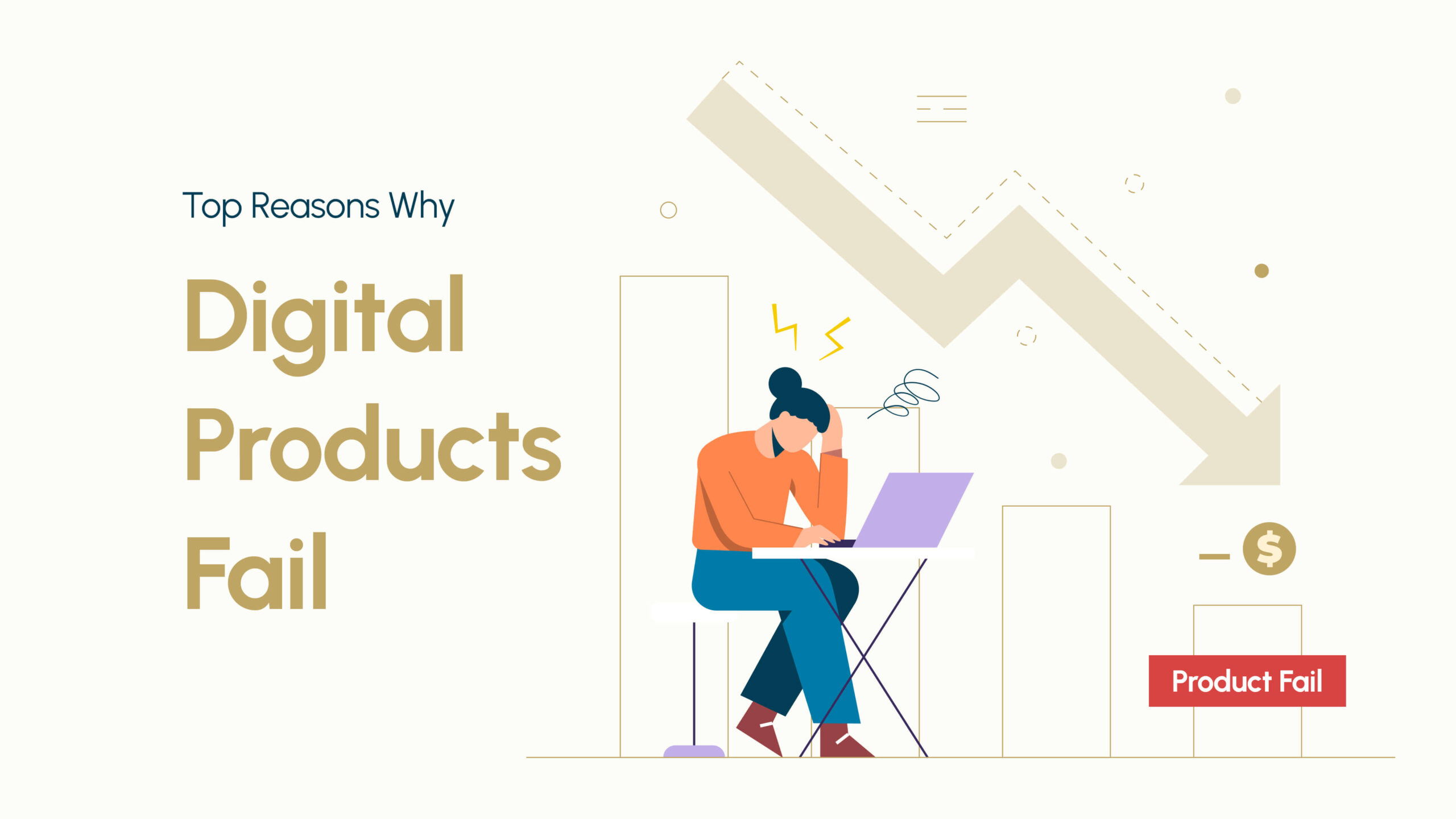 Quick Summary: Are you looking to create problem solving digital products? That's a good idea, but considering the market, you need to explore all elements that ensure your product is going to make a good start. So, among all the good things, you need to explore the flawed side of digital products. That means you find out the reasons why most digital products fail. In this article, we help you dig out the top reason for the failure of products in a short or long span of time. The effort is to help you avoid what others did not. Let's explore.
Did you know around 30k products launch each year in the market, but 95% of them fail?
This includes even digital products. The reason why digital products fail could be many, but the one that is the mother of all reasons is startups or entrepreneurs do not leap before they jump.
But, if you are creating or launching new web, mobile applications and software products in the market, you need to explore the top reasons why digital products fail so you can avoid the same fate.
We have explored all the hidden causes of digital product failures. Everyone, from well-established businesses to promising startups, has once or twice encountered a setback. Understanding the reasons behind these failures, however, is what sets winners apart from losers. So, continue reading if you're ready to learn from others' errors and ensure your next business success. You can go for a digital product design services provider to get a fantastic product built and overcome all the product failure reasons. The top reason for digital products includes;
Lack of Resources Understanding:
Poorly Designed Business Model:
Not gathering feedback:
Poor Marketing and Launch Strategy:
Poor Performance and Reliability:
Insufficient Market Research:
Inadequate Testing
Lack of Resources Understanding
This is mostly for established organizations wishing to create a new digital product involving a mobile app. A web-based digital product is usually thought to resemble a mobile app pretty closely in no way. Many analog firms believe "digital" is more affordable, simple, and quick. This causes great irritation for the business engaged in developing the client's digital product. Both parties may become frustrated due to the friction, and the initiative will frequently fail.
Poorly Designed Business Model:
We truly notice this most. It shouldn't surprise us how frequently this occurs. This needs to be resolved in the UX plan, but it is frequently not. Firms developing digital products try to align the business model for a digital product with their current model. Rarely does this work. Digital customers' purchasing habits differ from those of traditional consumers. Most importantly, when creating a digital product, giving importance to design is crucial. But, most businesses ignore this. You need to create a whole design process and implement it effectively.
Not gathering feedback
One of the top reasons that digital products fail is not gathering feedback. When you launch digital products online, you get genuine feedback from real users. Most entrepreneurs fail to gather those reviews and implement them. Feedback is often given when consumers face any issue while using the products. It can be even positive if it is good enough for users. Gathering those feedback, analyzing them, and making necessary changes.
Poor Marketing and Launch Strategy
You have a good product and it is good for users, but what if users don't know about the product? It's useless. Unfortunately, proper marketing is one of the reasons why even an outstanding digital product fails when launched. Besides marketing, many startups and entrepreneurs fail to create a good launch strategy. They fail to know their target audience and their needs, preferences, and behaviors. Before you create digital products, you need to know who you are creating these digital products for.
Poor Performance and Reliability
If your digital product is for users it must be useful to them. Modern customers want digital products, such as apps or websites to provide them comfort and flawless user experience. Your product must meet their needs. It will happen if you have a perfect project scope prepared by an expert business analyst. At the same time, the quality UI/UX of digital products depends on the UI/UX designers you hire to work on your projects.
Insufficient Market Research
Is the digital product perfect for the market? 90% of those who fail do not know this. It happens because they do not invest in market research. Before you launch products, you must explore, or we can say comb through the market, know the products & UI UX design trends, and analyze your competitors. You will find plenty of useful insights that will help not just create outstanding digital products but also make them successful in the market.
Inadequate Testing
Most digital products fail launched without testing. Most startups don't know about testing digital products before launching. Even most IT firms ignore testing products before deploying. That happens for various reasons. Things start with the right UI/UX design and if you have a partner that offers high-quality UI UX design services will ensure they test the products they design and validate them using multiple testing options.
Poor monetization strategy
Do you want to monetize your applications? Have you created the strategy for it? Remember a bad monetization strategy can frustrate your users and they may not hesitate your abandon your application. In fact, it happens with most digital products. They bombard users with unnecessary ads that are not relevant to users. If you are using other monetization hacks, you need expert advice. Do not take decisions in haste unless you have a proper strategy in place.
Recommend to read: UI UX Design for Startups : Why It's Important
How Does Finch Design Help for Creating and Launching Successful Digital Products
Finch Design is a top rated UI UX design agency, providing reliable digital product design services for a wide range of industries. We have a team of experienced UI/UX designers who have created designs for various products. Besides, we provide digital product design consultancy that includes product suggestions for product failure reasons and how to avoid them. We do it by providing you with expert suggestions.
Finally…
In this article, we explored all possible reasons for digital products failure. This will help you avoid the same fate if you are creating your own digital products. Most importantly, consider taking expert advice before taking a final call. Creating a product seems easy, but it's complex involving a lot of factors and strategies. Go through this article again, find a good expert or connect with us as we can help you solve all your issues with regard to digital product design and development. Let's Connect.
Index
Would you like to Listen?
Related Articles
Get the inside scoop on the latest UX industry happenings and trends from our expert UI UX professionals.