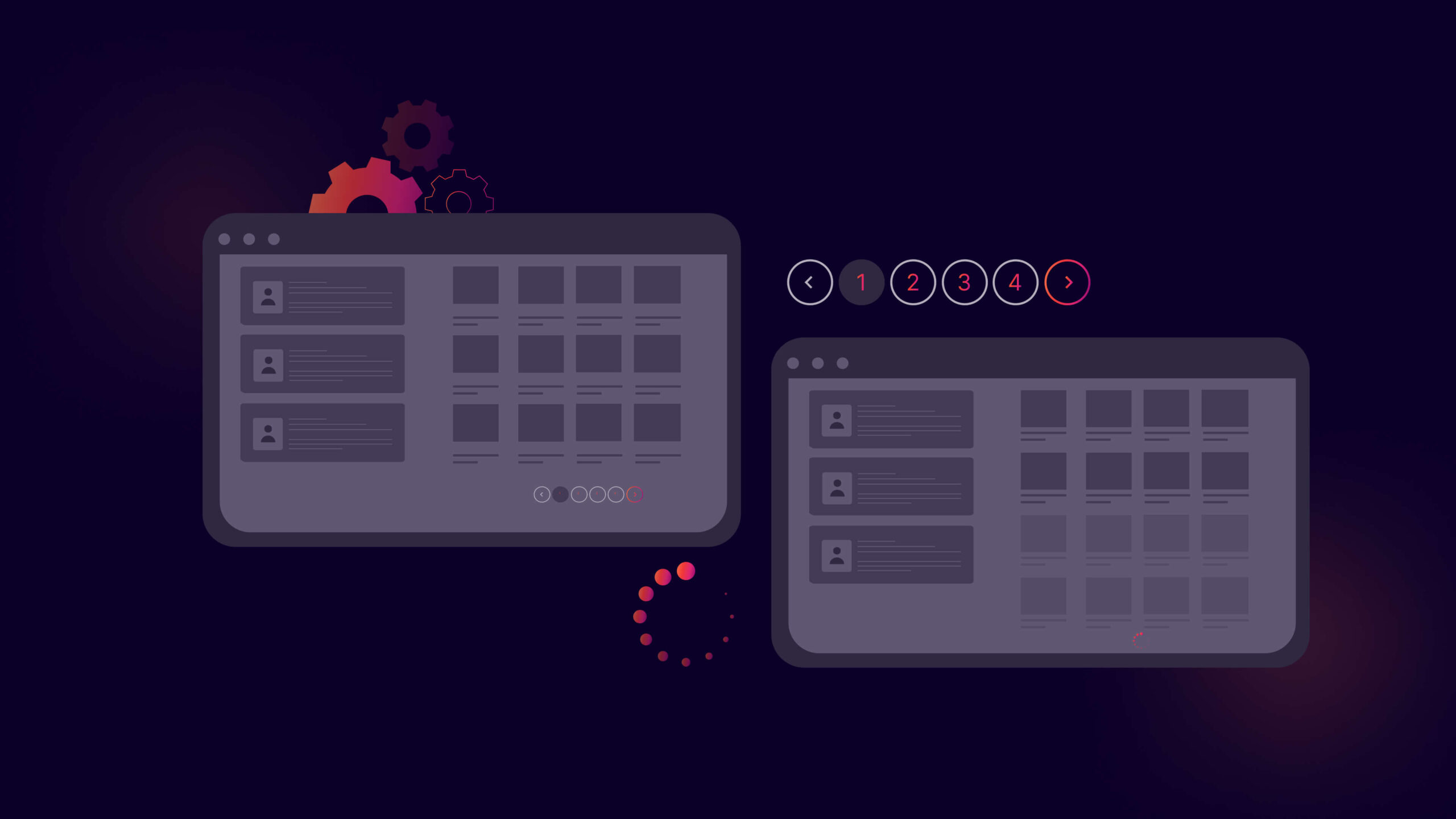 Quick Summary: Are you wondering whether to use pagination and infinite scroll for your digital platform? What approach is most effective for your project will depend on the type of content on your website and the amount of scrolling pages. Read on to identify the right digging strategy for your website. This article will explain what infinite scroll and pagination are & how each of these UX factors affects various website features.
Have you ever noticed the feeds that are constantly refreshed on social media platforms and magazine websites? Did you ever determine why each platform has different use factors to browse more content? This happens because digital prototyping on websites differs widely & a single page cannot always contain all the fascinating stuff. From a user perspective, a platform needs to initiate a browsing experience that matches the amount of effort and attention you've invested into your website's content.
This is an important consideration while choosing the layout of your website. The content on your website needs to be organised and presented in an approach that satisfies visitors. There are numerous methods for displaying content on your digital platform. Pagination, infinite scrolling, & loading more buttons are techniques used in UX design.
Generally, two types of content structure are initially used for modern websites. The Pagination separates the content into various pages & Infinite Scroll gathers all of the website's content on a single screen. Let's dig deeper into these concepts!
Pagination At Glance
Content on a website is divided into different pages using the pagination technique. Visitors can move across these pages by clicking on links. A similar topic or desired links to the content in paginated pages. Such connections are frequently in a series of numbers displayed at the bottom of a page.
Whether the websites for online shopping or blogs that provide information, Pagination UI is commonly utilised by many websites. The reason behind this is that the visitors can navigate to a specific page by clicking on an image thumbnail if the blog or informational website has highlighted portrait thumbnails to browse more articles.
For scrolling through the content of a website, paginated interfaces provide an outstanding design. Choosing Pagination can be a better decision when it comes to an e-commerce website. Users will find it simpler to reach their intended goal when they visit your product as an outcome. By giving them this value, you might be able to convince them to buy your goods.
Infinite Scroll At Glance
When the user reaches the bottom of a page, the content continues to load in this type of content structure of the Infinite Scroll technique. As a result, it appears as though there is an infinite stream of information available on a single page.
You may observe this functionality on common social media platforms such as Facebook, Twitter, and Instagram as well as image-sharing websites like Unsplash. In short, the page dynamically reloads with fresh content which means there is no need to click on an endless scrolling page.
To produce fresh content this adopts the inefficient load design functions as it arrives on a single screen. Despite the fact that overall content entities are beneficial and well-known; but there is a chance that they aren't related to user wants. For certain websites, pagination works well, but unlimited scrolling for some websites makes more sense. Infinite scrolling lowers interaction costs and boosts user interest.
Pagination vs. Infinite Scroll
Pagination and infinite scrolling have distinct pros and cons. Depending on your website's objective, content type, and intended user experience, UX designers/developers will need to figure out whether to implement pagination or infinite scroll functions. It is totally up to the target audience of the business. When visitors are searching for particular content on a website, pagination performs better and websites that encourage users to browse and examine the available content should use infinite scrolling. Mobile devices benefit greatly from an infinite scroll.
The majority of people who come to e-commerce websites are seeking a specific kind of product, and they only want to browse the pages that are most related to their search. Due to the improved ability to search for and catalogue products, pagination is frequently utilised on these websites.
On the other side, some people merely want to be engaged or entertained while viewing genuine content. They utilise social media frequently without a purpose in mind. This defines why the majority of news and user-generated content websites have endless scrolling.
How Website Functions Are Affected by Pagination & Infinite Scroll?
Infinite scrolling & pagination UX serve distinct functions and have an impact on a website's user experience. Let's examine Infinite scrolling vs pagination and how these affect various website features.
Mobile Pagination
Mobile pagination offers a powerful way to enable consumers to simply get all the information they require, without being struck or dissatisfied whether it be through sequential links or a load more option. Few websites have new content that is continuously loaded as the viewer scrolls down the page. This structure is possible with infinite scroll techniques.
A useful technique for breaking up lengthy lists of content, such as articles or listings of products, into a number of smaller pieces that can be loaded and examined once at a time on a mobile device is usually known as mobile pagination. The requirement for infinite scrolling decreases substantially by dividing huge quantities of content into portions, which also improves navigation on small screens.
Seamless Use
Users can become habituated to your site's layout if your website's material is paginated. Although customers assume browsing is barely necessary to reach their objectives on a website, it should still be the goal to minimise clicks. Users won't have any trouble clicking between your pages as long as they are organised effectively.
Your website's usability will stand out if its content is better suited for infinite scrolling. It moves quickly, easily, logically, and immediately. A great deal of users find it much more natural to simply scroll to display more content. A good user experience is something that users not only value but have evolved to become familiar with.
Infinite Scroll was originally designed for mobile devices. Some devices benefit greatly from Infinite Scroll's increased usability. Because it minimises button-pressing, which can be extremely distracting on phones.
Effortless Implementation
Pagination features are pre-installed when creating a website. It is the standard setting for content organisation in most website developers. However, introducing continuous scrolling requires extra effort from the UI UX developers in order to provide a more user-friendly experience.
Reorganising your website's organisation is necessary when switching from pagination to infinite scroll. The workload is, however, totally worthwhile. They are required to develop features that can add limitless scrolling or some add-on functionality.
Collaboration
The purpose of Infinite Scroll is to promote user interaction and length of stay on your website. Infinite scrolling pages will keep presenting relevant information in an effective, simple-to-understand and interruption-free manner even if the bulk of users access your website without having any particular objectives in mind.
On the other side, pagination design is more effective in guiding users to the content they want as quickly as possible. Pagination has the drawback of delaying flexible exploration because users have to constantly click next…next and patiently wait for new pages to load.
Expanding the length of each page and optimising for load time are two ways to address the issue. This issue can be resolved by limiting image size which is necessary due to the shortage of internet usage. The loading process can take a long time even with infinite scrolling. The amount of content that must be loaded increases as visitors scroll, decreasing page performance.
Appealing to the Eye
Infinite scroll improves both usability and visuals when used in the proper way of style. This makes Infinite Scroll websites ideal for portfolios, photo-sharing, and other websites with lots of visual content. Users want a stream of aesthetically appealing images to obtain an idea of your art or to get inspired, especially when combined with other effects like parallax scrolling.
Pagination VS Infinite Scroll: Which One is Better?
The process of planning and presenting your information on the platform is only to meet the needs of your audience. Businesses need to know the concept of infinite scroll vs pagination for the purpose of website design. Finding the right content for your audience shouldn't even be a thought for users when it is implemented correctly.
For various websites, each of these UX strategies has a unique effect. Select the strategy that is most appropriate for you based on your range. Both pagination and infinite scrolls are a part of UX Design services; to determine if your consumers prefer infinite scroll or pagination, test both of these approaches and analyse the results to gain data-driven insights.
Final Thought
Building a website requires careful consideration of a thorough examination of user behaviour. Before you start the design process, familiarise yourself with the help of an expert UX research team to understand various user-research techniques. Collaborate with an accredited UI UX Design Agency to acquire the best solution for your business's needs.
Index
Would you like to Listen?
Related Articles
Get the inside scoop on the latest UX industry happenings and trends from our expert UI UX professionals.