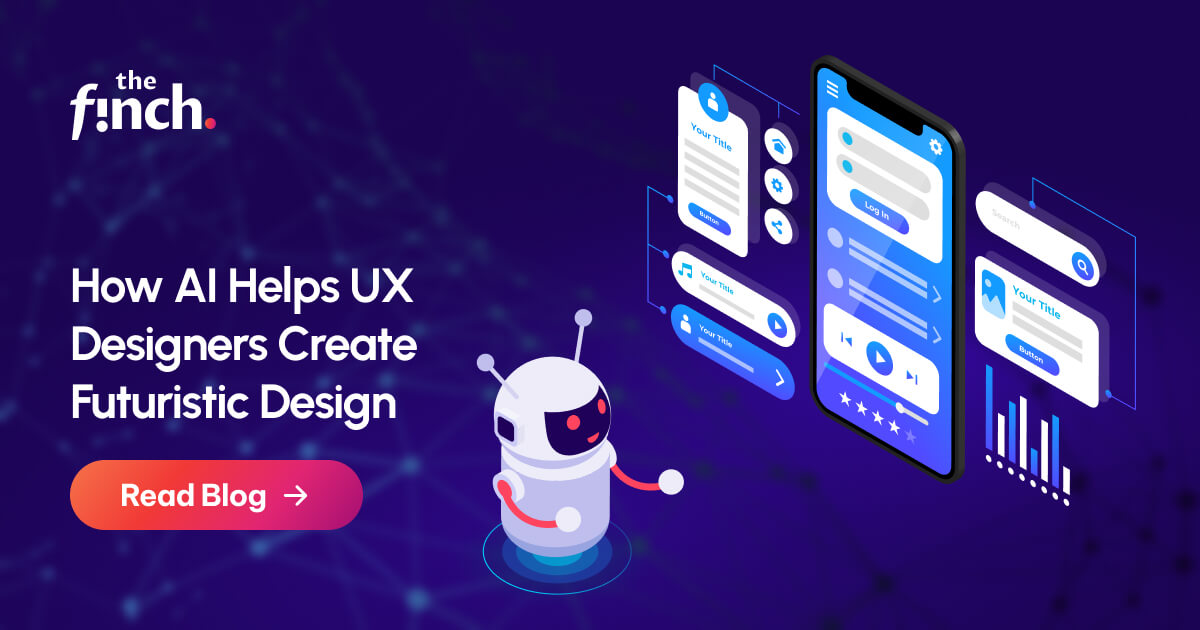 Quick Summary: AI is transforming the way we create products and systems. Even yet, UX designers and developers are reaping benefits from it, despite some professions. Precisely, AI supports the identification of users' demands and behaviours. What outcomes? A much-enhanced user experience!
The tech industry has quickly adopted AI Technologies as a key component. AI is frequently seen as an opportunity to increase productivity and reduce costs. Moreover, the rise of AI truly helps in the future growth of various professions, including UI UX design. This industry could start to take one step ahead and consider how AI can help to perform even better.
Let's clear up the confusion for UX designers; AI listens to the user and delivers the design, while humans understand again and again to deliver the desire of human needs. Well, the requirement for human designers will stay extended as long as demand for designs from humans. Besides that, AI tools for UI UX designers open up remarkable new opportunities for more effectiveness and greater diverse user experiences.
The Finch Design is a leading UI/UX design service provider offering high quality and visual appealing design services that include, UI and UX design services for a wide range of industry verticals. Contact Us today with your project scope and bring your idea into reality.
Discovering how to use AI to your advantage is a key component of UI UX Design trends and that's where we arrive! Let's have a look at the topics this blog helps you with.
How AI Helps UX Designers?
Which Industries Take More Benefits of AI UX Design?
Advantages of AI for UX Designers
Common AI Tools for UX Design
How AI Helps UX Designers?
Designers were good players and satisfied everyone's needs before AI was brought to this world. However, adopting new Design trends is a necessary step to stay aligned with modern standards. Let's see how to use AI for UX design & how it can benefit designers.
Image & Design Generation
Using UX design and AI to create art and images is one of the most delightful and potential uses. One can generate an original combination of designs with tools like StarryAI that can stand alone or act as an inspiration for future designs.
Designers should embrace AI's capabilities for creating art and images as an addition to their own creativity. AI Generated UI Design make a quicker reaction for bringing suggestions to reality and removing many errors that traditional professional user experience designers create using traditional techniques. The development of user-friendly tools is what makes AI design possible for designers of all levels of experience.
Automating Techniques
The task of a designer frequently involves some amount of research. Problem-solving tasks that can be automatically done using AI in UX design. AI take up a significant percentage of the time spent by many design teams. Cropping wealth, resizing graphics, and colour-correcting radiation are a few operations that can be easily performed by AI.
Despite the fact that some of these optimisations may appear minor in scope, their influence on AI design should not be ignored. They are releasing the time for designers to concentrate on higher-priority and strategic product choices, which continue to be far away from being automated.
Delivers Unique Visual Ideas
By applying clever filters to images and videos based on image recognition, AI tools are also actively contributing to the formation of new visual patterns. In order to choose the best visual effect to use, AI can analyse a photo and identify what it is, for example, a human face or an object. This understanding helps the AI decide what effect to apply.
The procedure for drawing an AI design is outstanding. As users navigate the system and create sketches, machine learning will allow the system to understand more about the users. After a number of revisions, the AI may understand what you are attempting to represent.
Produce Countless Variations
AI will help UX designers in creating various variants after discovering a pattern. It can take a design and extract the colours and patterns from it, then generate millions of variants using the different colours and patterns that were extracted.
For designers, particularly those working on logo design projects, this is yet another very helpful method. This means that you can use AI to recognise abstract patterns and brand colours, which will then apply to generate original designs once you've established some guidelines. You can generate dynamic logo designs with the help of all of this.
Which Industries Take More Benefits of AI UX Design?
Manufacturing
There is no question that the manufacturing sector is setting the bar for the use and implementation of AI technologies. AI is used in manufacturing at many different lines and levels of operations, from labour planning to product design, enhancing productivity, product quality, and worker safety.
eCommerce
The e-commerce sector gains a lot from the use of AI. Companies like Amazon, Shopify, and Etsy already cater for these functionalities. They can be used to analyse customer data, forecast consumer behaviour, and produce personalised product suggestions, improving customer experience and boosting sales. E-commerce websites also gain advantages, as AI increases creativity in UI UX design and helps the platform look more attractive.
The creation of product descriptions is another operation that AI performs using natural language processing; this process is often labour-intensive but is completed considerably more quickly by AI. Having a proper UX design strategy in place, Artificial Intelligence can help create outstanding user experience for eCommerce applications.
Fashion
The fashion industry is also enhancing new benefits of UX designs as automated product categorization, labelling, and cataloguing are made possible by AI algorithms that can analyse images and recognise particular patterns, colours, or designs. This simplifies inventory control and enhances fashion platforms' searchability.
Technology Information
IT Companies are reaping real advantages of artificial intelligence for user interfaces that are believed to provide significant financial value as they extend the use of technologies within their UX Designs. Organisations believe AI and ML will help increase revenue, improve operational efficiency, and enhance consumer experiences.
Advantages of AI for UX Designers
Artificial intelligence (AI) is considered one of the most interesting technological advances in user experience (UX). This trend is not just affecting UX design; it is affecting all elements of the business, from marketing to production, sparking fresh insights, opening up new opportunities, and giving businesses a competitive edge.
The field of UX design has the potential to be considerably improved by AI owing to its range of advantages. AI and UX can work combinedly. To begin, AI can help with the collection and analysis the massive amounts of user data in order to get helpful insights. AI algorithms can detect patterns and trends that guide the design process by analysing user interactions, needs and practises.
AI UX designers are able to comprehend user demands by using this data-driven approach, which enables them to build experiences that are customised and specifically catered to the needs of the user.
User experience and AI parallelly smoothed the ultimate design process. Data entry and content edits are the best two examples of repetitive processes that can be automated by AI-powered tools and techniques. This is how it frees up designers' time to work on more creativity and strategies used for UX design elements. Additionally, based on predetermined criteria, AI may produce design variations and prototypes, allowing for quick exploration and development of design concepts.
Common AI Tools for UX Design
Effective UX design can be made in less time with the help of AI tools specially denoted for UX design. Take a peek at the technology that is revolutionising the UX design industry. These AI-powered tools will enable you to produce designs that make a strong mark on your audience, whether it is simple prototype tools to astute analytics.
Framer
Attention Insight
Khroma
Visily
ChatGPT
Adobe Sensei
Jasper
Uizard
Fronty
Visualeyes
These tools can assist you in producing outstanding designs that appeal to people, whether by optimising workflows or improving the user experience. These top 10 AI tools for UI UX designers are without a doubt game-changers, based on your opinion about AI.
Bear in the Mind: You shouldn't depend exclusively on these tools! Consider them as useful design servants that automate activities so you can concentrate on achieving your objective of creating distinctive, logical, and approachable AI user experiences.
Conclusion
It's beneficial to experiment with various tools to learn how AI can help you best achieve your design goals, especially if you want to stay ahead of new trends. This does not mean that you have to use AI at every level of the product design process.
AI can be valuable in the toolkit of every UX designer. AI could reveal important insights that might otherwise go unrecognised by UX designers and assist in the creation of unique, customized digital experiences.
Startups need UI UX designers to enhance their business with the most basic requirements like logo, promoting advertisement, website & so on. If you are the one who is in search of how to hire a UI UX designer for any design side needs, TheFinch Design is just one step ahead to fulfilling your requirements. Get in Touch with us today and grab the advantages of both UI UX design services.
Index
Would you like to Listen?
Related Articles
Get the inside scoop on the latest UX industry happenings and trends from our expert UI UX professionals.