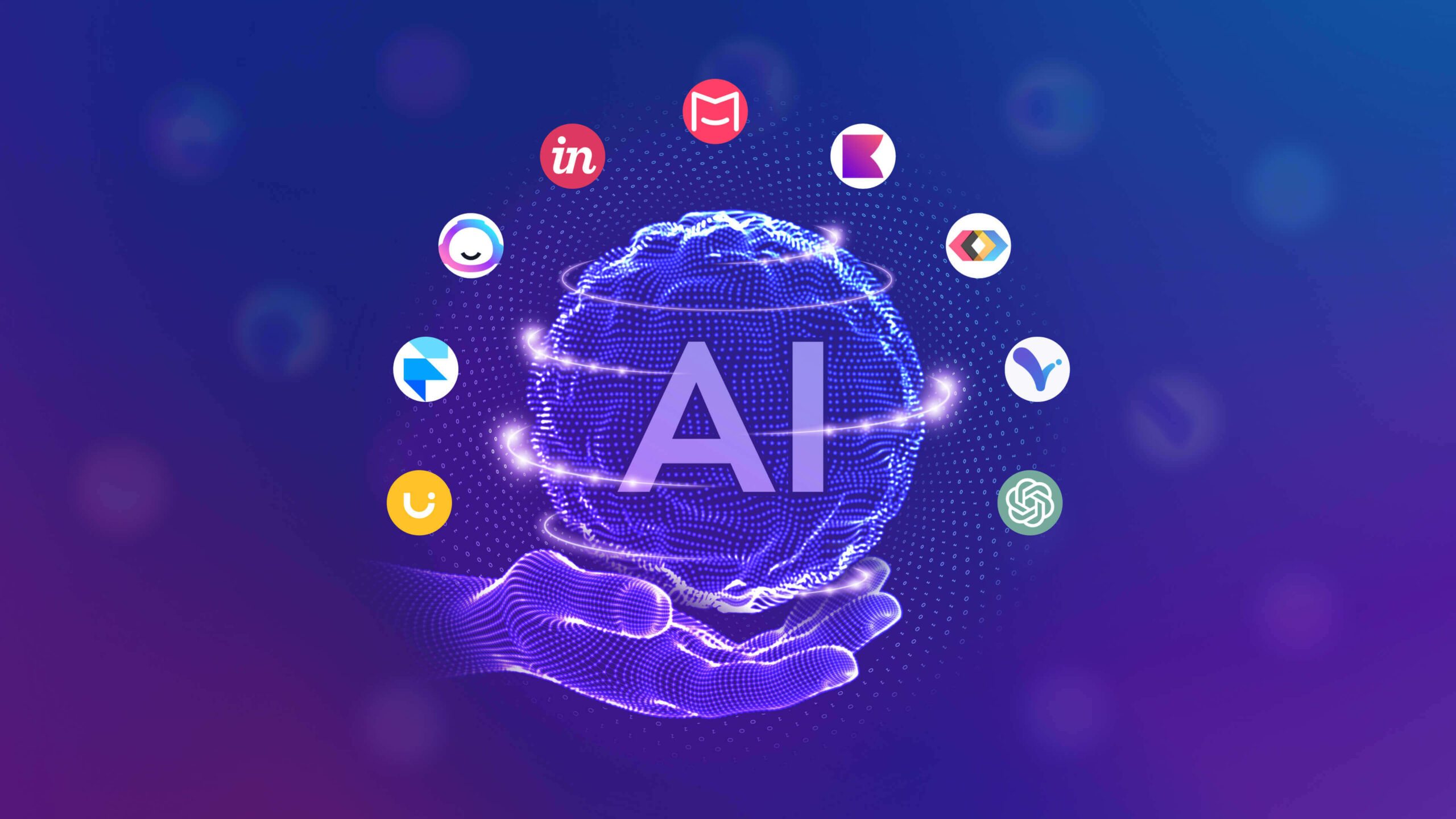 Are you fascinated with the dynamic power of Artificial intelligence? Get creative and start designing efficient and enticing designs with these top AI tools for UI UX design.
The storm of AI tools is transforming the UI UX design industry. Artificial Intelligence has become a powerful assistant for creative and efficient designs. The AI tools automate various tasks for designers, reducing their effort to half.
The AI tools simplify everything, from creating mockups to designing elements and generating predictive analysis. With AI tools, designers can focus more on the creative side, leaving the repetitive tasks to the tools and staying ahead of the curve.
So, are you curious to know which AI tools are the best for UI design?
Discover the top AI tools every web and UI UX designer should try for improved efficiency and creativity.
Best AI tools for UI UX Design
Uizard
Uizard is a robust AI tool for design and ideation. The tool helps designers automate mundane tasks so they focus on more creative works. As a startup, you must be aware of the importance of UI UX designs for your digital growth. Uizard makes the design process easier for startups, automating the tasks.
Uizard automates the design process, enabling designers to generate native mobile applications from the sketch. The tool features include producing predictively designed layouts based on recent design trends.
Designers can also use the tool to turn their ideas into polished, professional-looking prototypes. Uizard generates pixel-perfect interfaces based on unique prompts and inputs.
The UIzard app is also a great tool for testing the design and the flow.
Midjourney AI
Midjourney is a creative AI-powered platform enabling users to create images and web interfaces through text prompts. The tool uses natural language processing to convert text to images. Users must have a Discord account to access the services of the Midjourney tool. The AI app is ideal for brainstorming and creating prototypes.
Omneky
Another powerful AI tool for UX design is Omneky. The tool is not just for UX design; it's much more.
Omneky is a one-stop solution for all your brand building, content creation, and design. We have designed the AI-powered tool to help businesses create personalised content for their marketing campaigns, generate creative social banners, and track performance. With Omneky, companies can manage their marketing campaigns, assets, and metrics in a single place and grow customer satisfaction ten times.
Do you want to get your AI-powered platform designed by a top UI/UX design agency? The Finch Design can help with our creative UI design services and deliver a visually stunning platform.
Adobe Firefly
Firefly is a generative AI system by Adobe. The tool is in beta and is integrated with Adobe's Creative Cloud applications. The tool is available for Creative Cloud subscribers who can use Firefly in two ways.
Firelfly website in the browser.
With Photoshop as a beta
Adobe Firefly can create beautiful images by converting text prompts. The AI tool supports over 100 languages enabling users to create 3D images, sketches, patterns, etc.
Framer
The next best AI tool for UX design in our list is Framer. Framer's has been a popular UX design tool among designers for its user-friendly no-code platform. The app has advanced prototyping features, and an extensive library of pre-built components.
The tool recently added an AI-powered feature that enables users to design, generate, and publish your site in seconds using prompts. Designers can get their half job done with the basic design and use their creative skills to enhance the design.
Attention Insight
Do you want to know how your users engage with the designs? Attention Insight is the perfect AI-powered tool for that.
The tool shows analytics on conversion rate and product performance. Designers can discover the usability issues on the site. They can also understand what elements users notice when they visit the website.
Designers can validate their design concepts based on predictive analytics. The app offers focus maps that allow companies to see the activities of the users. They can discover the elements users pay attention to in a product design.
Attention Insight also compares designs and offers reports to measure the design performance. Thus, companies can measure the performance and optimise the product before launch. It adds the confidence of launching an effective product.
Jasper
Looking for complete support to put your website design out? Jasper is one of the best AI tools that can help you with visual components and generate dummy text. Thus, designers can quickly complete the designs with an optimised website copy.
Jasper can help write product descriptions and landing pages to communicate the design and brand message effectively.
The tool uses machine learning to analyse the written copy and provide phrasing, tone, and structure recommendations.
The latest update of the tool includes an AI-powered feature that can explore the existing site and create new content based on current brand voice. The tool does not need any prompts.
InVision
InVision is one of the most widely used prototyping tools globally. With over 2 million users, InVision is one of the toughest competitors for Adobe Wireframe.
InVision app allows designers to create clickable versions of designs. They can test and share the designs with clients and other stakeholders.
The tool allows designers to share their screens with other designers for collaborative work. They can create animations and transitions as the tool interacts with other design tools such as Sketch and Photoshop.
Mockplus
Mockplus is one tool every designer looks for when it comes to being creative with minimal effort. The AI tool helps designers automate and export designs from other design apps like Sketch, Photoshop or Adobe XD.
Mockplus prepares specifications automatically, which designers use to build interactive prototypes. Thus, the AI app reduces a lot of manual labour and makes the work handy for designers.
GeniusUI
GeniusUI offers customizable UI components that help generate the design faster. The tool takes care of the repetitive tasks improving the overall efficiency. Thus, designers can focus more on the innovative elements.
Khroma
Need help deciding about what colours to choose for your website? Khroma's AI algorithms can help you generate and choose colour palettes ideal for your website.
The AI-powered tool generates beautiful and trendy colour palettes based on the designer's personal preferences. With Khroma, the colour selection becomes quick and easy.
The app suggests By examples, Khroma suggests excellent colour palettes after analysing millions of designs. The intelligent recommendations perfectly complement the design needs.
So, if you lack a professional UI/UX designer, the Khorma app is a must-have to make your design task quick and easier.
The tool also assists designers in creating visually stunning product designs that align with the brand guidelines and attract the target audience. They can get an easy design inspiration using the Khroma tool.
Fronty
Fronty is another powerful AI-powered tool for UX design. It is a low-code, no-code tool that converts images into HTML code. The app uses AI to generate HTML and CSS code from images. Thus, designers can turn static wireframes into dynamic and interactive websites in minutes.
Visily
Digital wireframes or good old pen-paper sketches? What do you prefer?
Or if the choice is too difficult to make, the Visily app is the AI-powered tool you will crave. Visily- the AI-powered tool allows both.
The tool enables designers to create wireframes and prototypes from hand-drawn sketches, app templates, and text prompts.
One of the remarkable features of the tool is the screenshot-to-wireframe. The designers can use the screenshots of an existing UX design and turn it into an editable wireframe. They can further go for several iterations using their creativity.
The advantage of the app is that designers get a design for inspiration to work on rather than starting from scratch.
Stable Diffusion
Another AI-powered tool for UX design is Stable Diffusion. The tool helps generate images from text prompts. Users can create perfect visuals in minutes with proper prompts. They can customise the images and enhance them with their creativity.
Adobe Sensei
Adobe Sensei is the most recent innovative addition of Adobe. The AI-powered integration helps designers to add creative elements to the design.
Adobe Sensei automates repetitive tasks and creates intuitive designs leveraging AI. Designers can automatically generate layouts or wireframes and add creativity to enhance the designs.
ChatGPT
ChatGPT has become a favourite AI tool amongst UX designers. The tool uses natural language processing to convert the information into actionable insights.
ChatGPT helps designers conduct research, gather data, and create user personas in seconds. It also predicts user behaviour and provides improvement recommendations in the overall design.
Enhance Your Designs with AI Tools
AI tools are definitely not designed to replace human talent but to assist them in being more productive. The tools automate routine tasks, freeing more time for designers to focus on more creative and effective work.
AI design tools cannot understand human emotions, and the designs created by these tools are more standardised and predictable. The designers can use the standard designs as the starting point and enhance them with their creative skills. You can hire professional UI UX designers who know how to use these AI tools to make their work easier.
Looking for a professional design agency for your next project? The certified UI/UX design specialists at The Finch Design can help you design highly intuitive and engaging designs. They are well-versed in using various design tools and stay updated with the current trends. Reach out to us to design exceptional digital products within budget.
FAQS about AI tools for UI UX Design
What Is AI For UI/UX Design?
AI for UI/UX design means integrating artificial intelligence and machine learning technologies into UI & UX design processes. AI automates various design aspects, such as creating wireframes, design elements, etc.
How to use AI In UI/UX Design?
Designers can use AI in UI/UX design in many ways. AI helps automate predictive analytics, create and enhance visuals and design elements, the natural language for chatbots, etc.
How does AI benefit UI/UX Design?
AI for UX design has many benefits: automated repetitive tasks, improved UX, faster design iterations, data-driven decisions, etc.
Index
Would you like to Listen?
Related Articles
Get the inside scoop on the latest UX industry happenings and trends from our expert UI UX professionals.