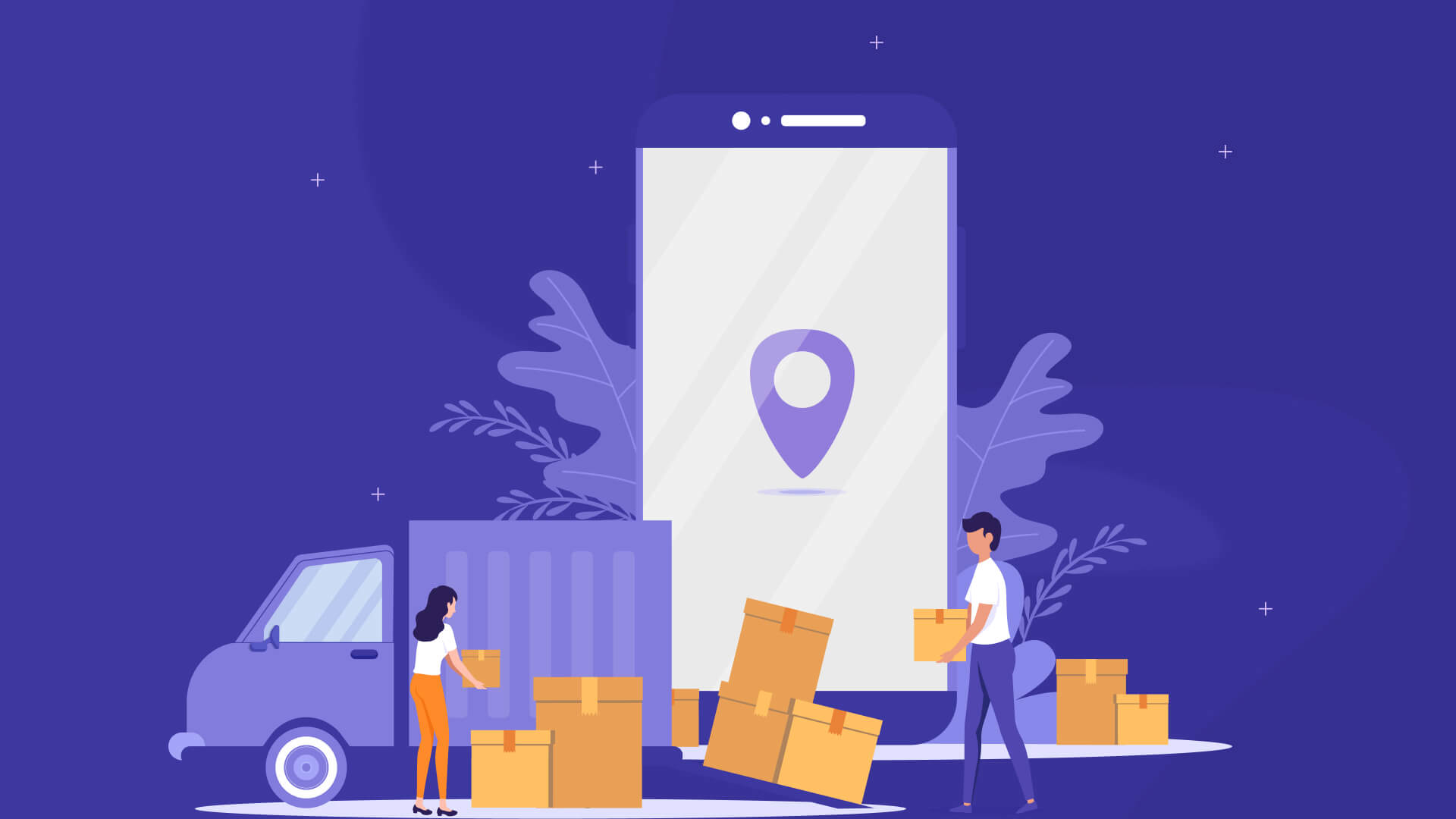 Quick Summary: Are you looking to build a transportation app? UI/UX design is the first challenge you need to solve. If you know what you want to build and design, you need to follow UI/UX design best practices for transportation apps and you will design the best app you desire. Your design must be created with features and solutions that users are looking for. Discover the best practices for UI/UX design for transportation apps.
The logistics sector is a widespread and highly profitable business. And, if you are planning to start your own transportation business then this is the right time to give your idea a life. Integrating digital solutions into your business will help you gain popularity and make your initiative successful. Building an app for your transportation business is must have thing that you need to start with. Even if you have started your business and have not yet built an app, you can explore options right now. This article will help you design your app idea and help you create the highly efficient application you desire.
App development begins with design and understanding the UI/UX design best practices will help you design your transportation that drives your idea into a successful business.
How Can Mobile Apps Transform Transportation and Logistics?
Everything is turning digital so are our needs. From needles to cars, we can buy everything online. The transportation and logistics sector is no exception to the advent. You can do plenty of things using simple logistics and transportation applications. You can receive orders, manage logistics, route, and more with a single application.
Mobile apps can assist transportation and logistics organizations in improving operating efficiency, lowering costs, increasing customer happiness, and gaining a competitive advantage. So you can now look at how mobile applications may alter transport and logistics, what essential features and benefits mobile apps have for this industry, and what is the best practice for designing a transport and logistics mobile app.
UI/UX Best Practices for Designing a Thriving Transportation App
Design transportation apps is the most complex job. It takes a lot of effort to create UX with excellent UI so users feel comfortable to use the application. It requires brainstorming, research and discussion to reach the right conclusion. And, most importantly, you need to follow practices of creating navigational UI/UX for your transportation app. This guide helps you make it efficient.
Conduct Market & Competitive Research
Complete market research and competition analysis before designing your app to understand your intended customer base's needs, habits, difficulties, and desires, as well as your competitors' advantages, disadvantages, opportunities, and dangers. The best way to conduct research is to take a design thinking process approach as it will help you not just know your customers but also help you how you can solve their problems with compelling designs.
Concentrate on User Experience and Satisfaction
Create UI/UX design that solves users pain points and keeps them engaged. Think if your design has all the features that satisfy users' needs. The essential variables that influence the success of your app are user experience and customer happiness. Ensuring the app is simple to use, navigate, and complete the end task are the basic design elements. The UI/UX of the application provides valuable, relevant, and accurate information and helps them do their job easily.
Optimize Scalability and Accessibility
Performance, security, and scalability are critical factors that influence the quality, dependability, and growth of your app. Optimize your app for performance by shortening the loading time, increasing speed, and assuring seamless functionality; optimize your app for security by encrypting data and preventing unauthorized access.
Make Sure for Extensively Tested
Once you design, do not move forward unless you test and validate it. It is necessary to extensively test your app before you forward it to the development team. Functionality, speed rate, usability, manual testing, clickability, etc. are the example of testing approaches which you can apply for your product.
Features to Integrate for Logistics and Transportation App
When strengthened with planned and fully functional features and strong technological support, an on-demand logistics app can contribute to the provision of high-quality services. You need a predefined process when designing a product. The following are just a few of the numerous functions that a logistic and transport UI design has to have:
Streamlining Onboarding Process
Apps for logistics will assist in streamlining and optimizing the supply chain process, resulting in a more efficient workflow. Moreover, by enabling an end-to-end, transparent, safe, and reliable supply chain architecture, the integration of Blockchain technology for logistics apps transforms this sector.
Clear and Smooth Navigation
If the app's homepage displays a map of where they are now located, users may quickly orient themselves and become more engaged with the service. There should also be signs for recognizable landmarks, commonly visited destinations such as major museums, and all transit terminals.
Real-Time Updates and Notification
This feature ensures that any modifications to the shipments are reported to the shipper, receiver, or transporter as soon as possible. It will keep everything on track by avoiding delays and miscommunications.
Maps & Geolocation
You may follow shipments by tracking the drivers' current location on the map. Transport and GPS technology works in a team. It is also compulsory to have a GPS capability in transportation applications. It will assist drivers by providing possible routes as well as traffic information. Most significantly, it benefits in the navigation, mapping, control, and management of fleet traffic.
Schedules Trip Planning and Routes
The software should be able to display a visual representation of inbound or outbound items to let operators, shippers, and receivers quickly determine the whereabouts of their commodities. It will be much easier to track the fleet, routes, shipments, drivers, and anything else that will assist in standardizing and organizing operations using an automated promise-management system.
Payments Personalization with User Profile
Shippers should be able to compare different carriers and their rates for the service they require using the app. This ensures that the shipper receives the best prices possible in the industry. This includes fleet and driver monitoring while managing products, orders, and payments.
Vehicle Tracking Notifications
Drivers and transportation businesses can monitor trucks, trailers, containers, and cargo in real-time notification. This capability should be provided through the app so that shippers and receivers may track their packages and receive progress updates by logging in.
How to Identify the Right UI UX Design Firm to Develop Transportation and Logistics Apps?
Transportation UX design may improve the entire supply chain process, from warehouse administration to vehicle maintenance. With such tools, you may automate your logistical operations while increasing your company's efficiency. The following are some factors that must be considered when looking for a design company:
Investigate Potential Vendors
Take the time to explore potential vendors before deciding on a logistics and public transportation app design firm. Examine online reviews and call clients of each provider to determine their reputation and industry experience.
Determine Your Needs
Before selecting a vendor, it is critical to clearly define the project's needs. Consider the functionality you require, the transportation technology you want the app to incorporate, and the type of user experience you want to accomplish.
Examine the Vendor Portfolio
Examine each vendor's portfolio after you've specified your needs. Examine how well the vendor's previous work corresponds to the requirements of your project.
Examine Case Studies
Examine case studies from the vendor's previous clients to understand how they contributed value to their solutions. Is there anything in the vendor's app that you could incorporate into your own?
Evaluate Team Knowledge
Assessing the development team's knowledge is an important step in deciding which vendor to hire. Ascertain that the company has prior experience in logistic and public transportation UI design.
Examine the Pricing Structure
Understand the pricing structure and offerings for transportation app ui ux services. Be aware of any hidden project fees and ensure that the vendor's price is transparent.
Conclusion
Without a doubt, the adoption of applications improves the transportation and logistics industry considerably. They enable organizations to monitor, control, and automate their supply chain activities more effectively, lowering costs and improving customer experience.
You'll be able to design a world-class logistic and transportation application with appealing user interface and user experience. Connect with us as we help you design your transportation as per industry trends. We offer quality driven UX design services that add value to your initiatives. Let's connect.
Index
Would you like to Listen?
Related Articles
Get the inside scoop on the latest UX industry happenings and trends from our expert UI UX professionals.