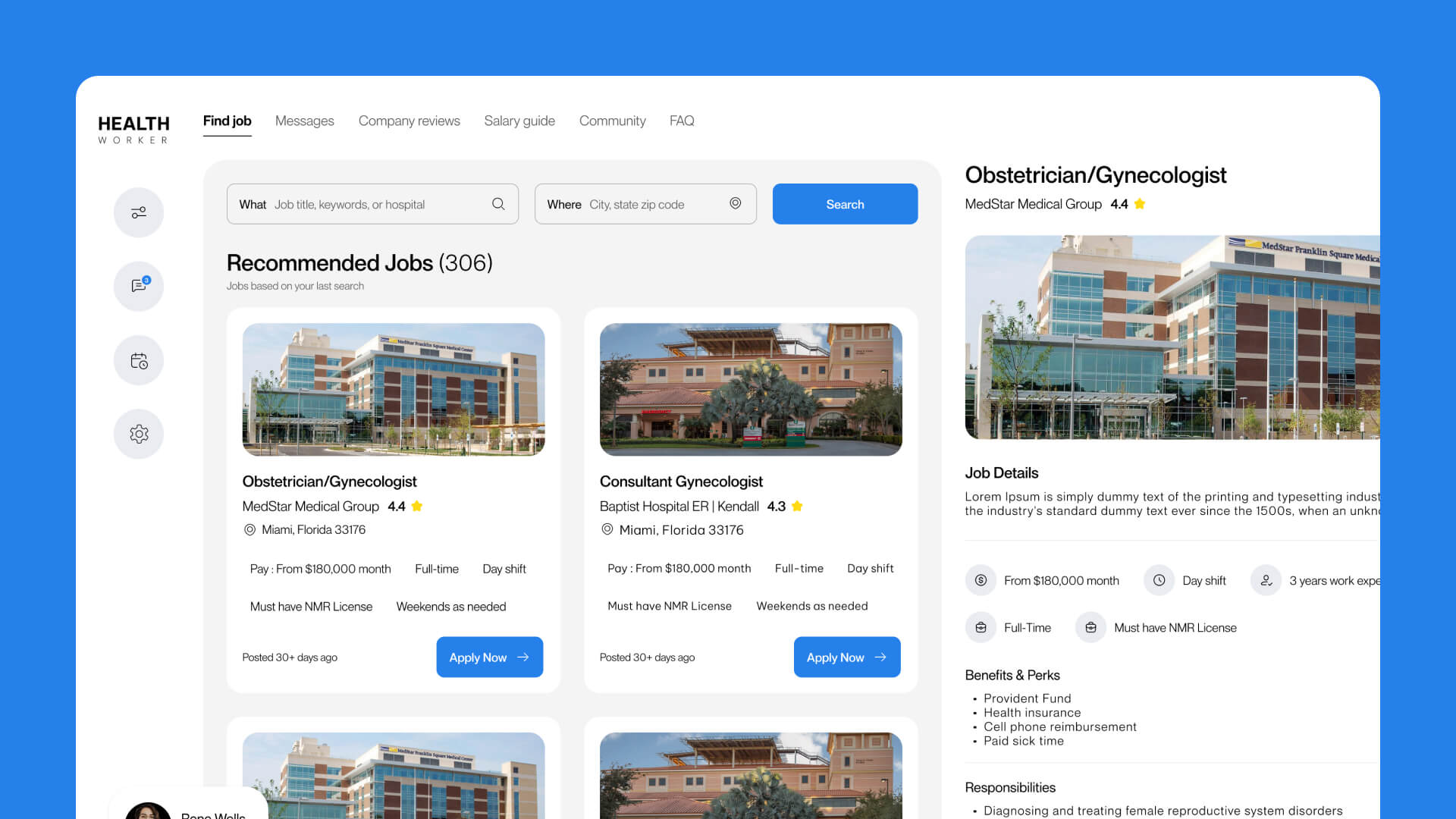 Quick Summary: Maintaining perfect design consistency is a challenge as your UX design team needs to be more specific with users' pain points and satisfy user needs. You may have experienced the notion that even if you took every precaution when creating your digital product, there is still a significant percentage of abandonment. UX audit is crucial as it helps not just find gaps but also improve products to help users achieve their goals. There are plenty of other whys for UX audit, which we will discuss in this article. Let's explore.
What steps do you take to ensure that your newly launched product is ready for use? Naturally, an audit is necessary to ensure that everything is in shape. It's the only way to ensure that the UX of your digital product is competitive. A UX audit seeks to provide you with information on the user interface of your digital product as well as its functions. Failing to establish a better design system audit may result in a high bounce rate and decreased sales. As a result, the UX audit report possibly helps you identify gaps and loopholes, so you have a better solution.
Most importantly, this will let you know what doesn't work, what makes sense, and how the entire setup can be made more efficient.
Testing should be done beyond only the user interface. UX content audits can assist you in guaranteeing that your audience stays engaged with your content. However, usability and user experience audits for websites make sure that your brand is accurately represented across all digital platforms.
What is a UX Audit of a Digital Product?
Digital products have to understand their users; otherwise, they will fail faster than you can think. The mobile app business is a prime example, as only 0.5% of consumer apps are successful. Hardly B2B apps make it possible to have an accurate digital platform even with a highly targeted demographic and specialized use case.
So, these apps' inability to live up to user expectations and needs is one of the main reasons they crash and destroy. A competitive audit report UX for digital products is more accessible, installable, and easily uninstalled in today's competitive environment. Your user's attention is something you are continuously fighting for. A majority of companies aim for creativity in order to gain the spotlight.
However, businesses frequently overlook the fact that they cannot develop without a thorough understanding of their users. Striking for innovation without context might negatively impact your product. Therefore, auditing a digital product is the entire solution to these concerns.
Top Benefits of a UX Audit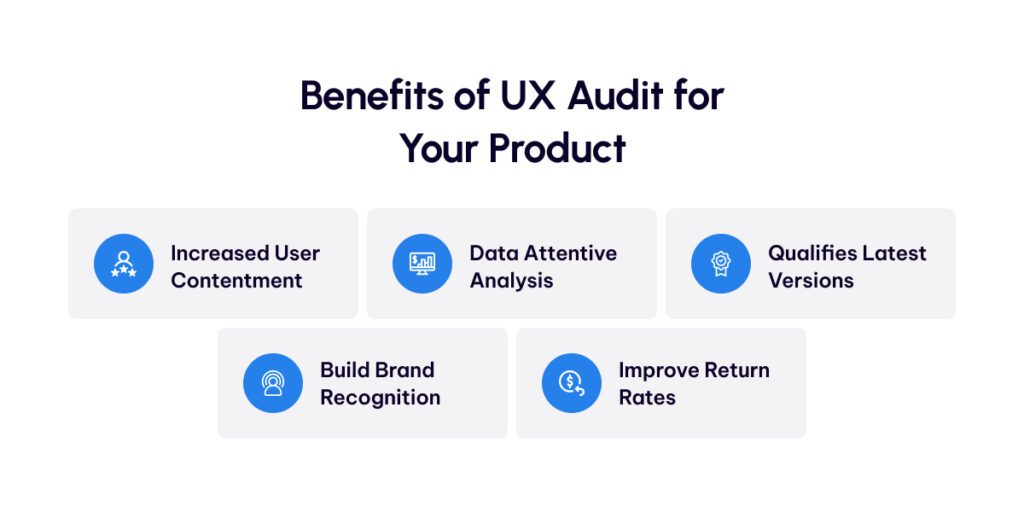 You can get plenty of benefits from a UX audit. The main factor behind most digitally-driven firms choosing the UX audit service, among many others, is a stronger return on investment.
Here are the relevant benefits of conducting a UX audit:
Increased User Contentment
Extensive insight into your user interface's performance and areas in need of improvement is provided by the UX audit. A UX audit detects usability problems with digital solutions, which greatly helps in fixing them to enhance customer satisfaction and engagement.
Data Attentive Analysis
The reason for doing a UX audit is that the process is totally dependent on the data. UX audits provide reliable information about where and how the user experience can be enhanced by evaluating the available data and digital solutions.
Qualifies Latest Versions
Aside from data research, the UX audit requests market analysis to determine where your digital product is lacking and what changes should be made to make it competitive in a crowded market with many comparable items.
Build Brand Recognition
The visibility of your company will improve in the marketplace the more competitive your product's user experience is. Also, this analysis contributes to creating a product that generates a lot of user buzz.
Improve Return Rates
A perfect UX audit tool could be useful in identifying areas where user journeys should be optimized, and conversation paths (such as sign-up, checkout, etc.) could be made less complex. The more convenient and faster the way those pages provide for navigation, the more likely it is that you can expect greater conversion rates.
Do you know! Why digital products fail
When to Conduct a UX Audit of Your Digital Solution?
The research involves performing a UX design audit at the right time to pick where your product falls transient and how to modify it before it causes further issues. So, if you want to build your digital platform more quickly to respond, UX auditors advise doing an audit once or twice a year.
Go through the facts to understand when you should bear the website UI/UX audit
When you're adding a new feature, making significant improvements, or altering your product
When digital marketing requires an audit in order for their tactics to be successful
When all you want to do is find opportunities for improvement
When your product streamlines your design processes
When you notice the increasing bounce rate
When you haven't gotten any conversation rate
In short, offering customers a great user experience should be a primary goal for every business. If you are facing issues in any of the above-listed things, then it is the right time to take action to have a proper product or website UX audit.
The Steps to Conduct a UX Audit for Product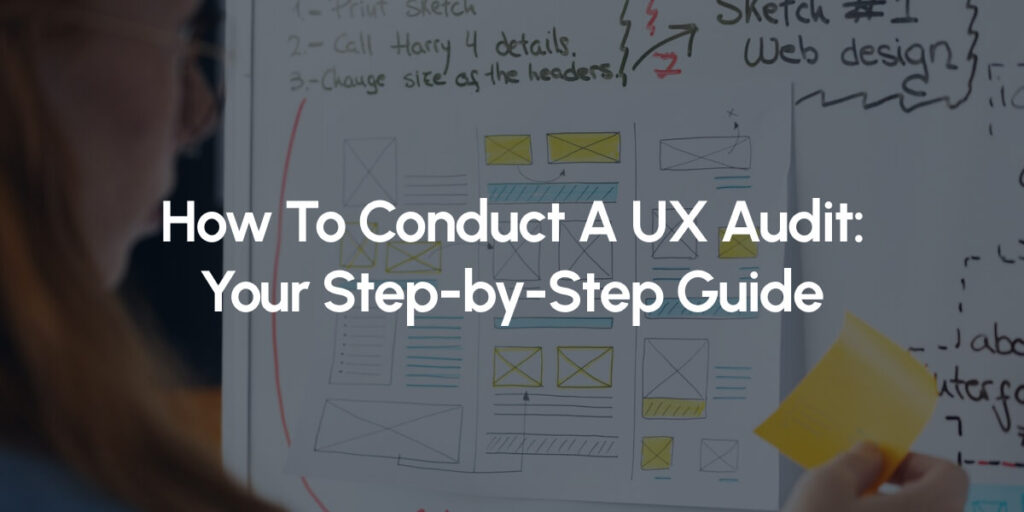 Now that you are aware of whether it is the right time to accomplish a UX and UI audit for your digital product, the next concern is how to go about conducting it. There is no need for you to hold out anymore since TheFinch Design has wrapped up the product auditing step. Discover below how to do a UX audit:
Recognize Business Objectives
To begin, you must thoroughly establish the business objectives. What does the organization do, and what is the goal of the product?
Create User Personas
Then, figure out who the users are. Determine which demographic they belong to. Find out everything you can about their goals, behaviors, motives, and frustrations.
Do Algorithm Analysis
To provide a pleasant user experience, digital products must meet specific usability audit standards. A heuristic evaluation based on a set of pre-established criteria should be included in your UX audit checklist.
Recognize Metrics
Website and mobile analytics can provide a wealth of information about how users engage with a product. For website audits, tools such as Google Analytics can be used to determine who is viewing the site and how they interact with it.
Deliver the Report
All of the factors need to come together at this point to create a UX audit report and recommendations. Gather and arrange what expertise and insight you acquired by following the prior steps. This study is meant to explain the primary issues and how the product is used.
How will UX Experts at TheFinch Design Bring Value to Your Digital Product?
A UX audit is an important step in improving the performance and user experience of your digital product. Using a UX audit to address these issues can greatly increase user happiness, resulting in more committed consumers who suggest your product. A proper audit is required to obtain the best results from your digital product. For that reason, you should think about conducting discussions and using an assessment procedure when hiring UX auditors for your project. With product development methodology, the professionals at TheFinch Design can be your perfect partner for UX research, design, and design system audit.
Index
Would you like to Listen?
Related Articles
Get the inside scoop on the latest UX industry happenings and trends from our expert UI UX professionals.